The introduction of AFLW in 2017 saw enormous popularity and growth of females playing Aussie rules. We all know the benefits of sports participation are offset by the greater risk of injury. However, I'm often ask why we are seeing so many Anterior Cruciate Ligament (ACL) injuries with female AFL players.
ACL injuries are a significant injury due to the likelihood that returning to sport generally requires reconstruction, prolonged periods on the side-line, and are associated with re-injury risk and knee osteoarthritis development. In the inaugural AFLW season, 8 listed players sustained an ACL injury and 9 in Season 2. In comparison, the incidence of ACL injuries in male AFL players is less than one ACL injury per club and per season (0.70)
The majority of ACL injuries are non-contact and occur when the player pivots, decelerates or changes direction. The length of time to return to sport (RTS) varies. The minority of athletes (33%) have returned to pre-injury level 12 months after ACLR (Ardern et al., 2011 & 2012). Furthermore, 81% return to some form of sport, 65% return to previous level of sport & 55% return to competitive sport (Ardern et al., 2014)
Dr Courtnery Lai and his team conducted a 15 year audit of ACL Reconstructions (ACLR) in the AFL. RTS rates were 77%, but interestingly players under the age of 21 years of age, were found to be twice as likely to sustained another ACL injury.
Adolescent girls are at the highest risk of sustaining a ACL injury (Walden et al., 2011).
This is largely due to females having a number of non-modifiable factors. For example:
Larger Q angles
Smaller intercondylar notch
Smaller ACL size
Larger tibial slope
Menstrual cycle (highest estrogen level)
Growth spurt (adolescents)
Genetics
Hypermobility
Prior knee injury
There are also a number of modifiable factors:
Muscle imbalance Hamstring:Quads
Biomechanical

Reduced Neuromuscular control + strength
Landings
Running, deceleration, change of direction technique

Balance
Co-ordination
Fitness/Conditioning, endurance
Reaction times
Environment (ground, grass, footwear)
ACL Prevention and Injury Risk Reduction (IRR) Programs
Prevention of ACL injuries requires a multi-factorial approach. Athletic development training should encompass elements of gymnastics, strength, multi-direction speed and agility techniques, as well as competitive co-ordination games. ACL injury occurs 40ms after initial contact. Therefore, prevention should also focus on before landing (muscle strength, pre activation, position, alignment). There is good scientific evidence that supports the inclusion of IRR programs. These are designed to alter movement patterns through neuromuscular and proprioceptive training with an emphasis on landing technique, landing body position during change of direction, deceleration techniques while also improving performance measures (speed, strength, agility). Professor Kay Crossley and colleagues at the La Trobe Sport and Exercise Medicine Research Centre published a paper this year on reducing the burden of knee injuries in AFLW. More than 50% reduction of injury occurred with IRR programs, based on the following recommendations:
A 6 week IRR period prior to pre-season with 2 hrs per week of supervised IRR strategies to be performed by all players
Continues during pre-season and in-season (at least 2 hrs weekly)
Additional access to physio/S&C for "at risk" players (+extra 60mins per week)
(Crossley et al., 2018).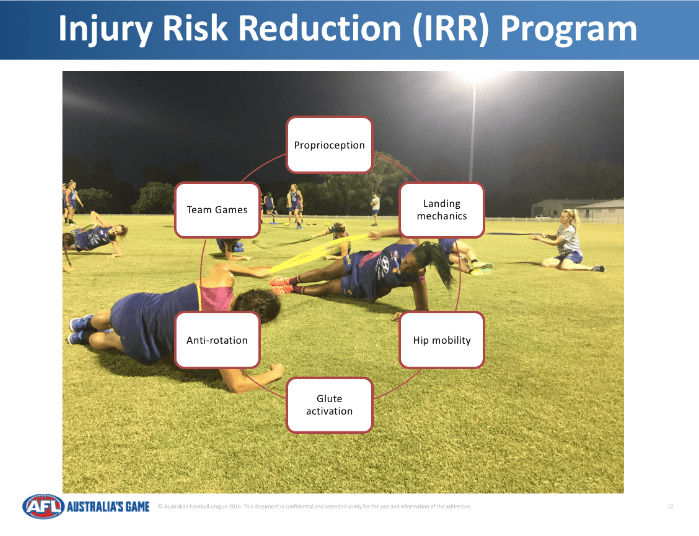 There is not a specific IRR program for female AFL but these strategies are designed to be incorporated into training and game day warm-ups. For examples of IRR programs please see below:
AFL Footy First
FIFA 11+
Knee Program Netball Australia: Elite
Return to Sport (RTS)
There is no single test available that determines if a player is safely ready to RTS. Rather, a plethora of functional tests (closed skills tasks), open skills, objective tests and assessing psychological readiness ought to be performed. RTS should be viewed as a continuum paralleled with rehab/reconditioning, not simply a decision taken in isolation at the end of the rehabilitation process. It's important multi-disciplinary teams are utilised in this process to help maximise RTS performance levels.
Grindem and colleagues (2016) published a good quality paper titled " Simple decision rules can reduce reinjury risk by 84% after ACLR". Key findings of the research include:
RTS earlier after surgery and having asymmetrical quadricep strength prior to return increased the risk of re-injury. Specifically, quadricep strength deficit (limb symmetry index <90%) prior to RTS was a significant predictor of ACL re-injury.
All participants who RTS within 5 months after surgery suffered a re-injury of their ACL. Those who RTS 9 months after surgery had no statistically significant reduction in the risk for re-injury. However, the study found that there was an  84% lower re-injury rate in those who passed RTS criteria (See Table A). Therefore, RTS decision making should be both time-based and functional.
Table A
RTP Criteria: Score >90 on all tests
Quads >90% Limb Symmetry Index (LSI)
SL Hop >90% LSI
Triple Leg Hop >90% LSI
Triple Crossover Hop >90% LSI
In Summary
All female sporting teams should incorporate IRR programs.
It's important to address the biomechanical issue/s that caused the initial ACL injury to help prevent a recurrence.
RTS criteria should be both time based and functional.
Other factors to consider
Female AFL players are not full time professional athletes so are limited by time restraints with training, working on their craft and IRR programs.
Several players are relatively new to the sport having played other sports prior to starting AFL.