How Does a Pelvic Organ Prolapse Occur?
Pelvic organ prolapse occurs when the pelvic organs move from their normal place within the pelvis towards the vaginal entrance. This may be felt as a heaviness or bulging sensation at the perineum, or you may be able to see or feel something different in your vagina.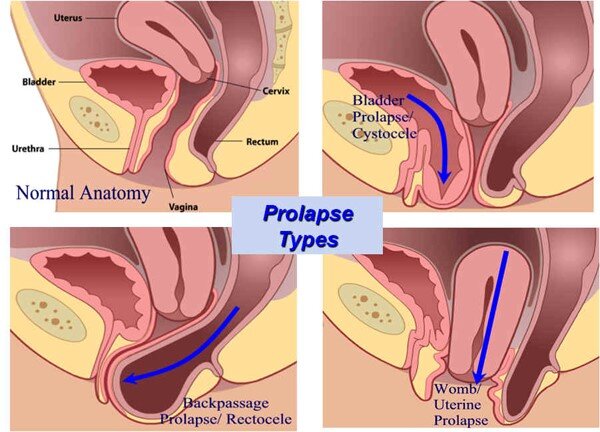 Symptoms
Pelvic organ prolapse may cause discomfort or pain, may make it difficult to urinate (wee) or defecate (poo) properly, or may interfere with sexual function. 
How Physiotherapy Can Help
Physiotherapy can help with the management and treatment of pelvic organ prolapse in several ways. This may include helping you better manage the things that worsen your prolapse (these are usually things that increase the pressure in your abdomen, such as heavy lifting/carrying, running, jumping, spending long periods of time in standing, constipation), improving your pelvic floor strength, endurance and function, and the use of pessaries to help support the pelvic organs.
Our physiotherapists trained in Women's Health will assess you thoroughly to determine what is contributing to your prolapse symptoms and help you to implement a management plan that best suits your needs and goals.